Regular price
Sale price
$199.00
Unit price
per
Sale
Sold out
It's The Falcondrive! overdrive/distortion dual-effect guitar pedal
Created in collaboration with RUDE TECH
Get out your axe, plug-in and shred on with The Falcondrive! guitar pedal! Created with the wizards at RUDE TECH in Nashville, TN, The Falcondrive! combines the powers of overdrive and distortion in one rad box featuring art by Thomas Fernandez (@liveradstudios)!
Developed by RUDE TECH in collaboration with The Aquabats!'s very own guitar hero Eaglebones Falconhawk, The Falcondrive! is studio and tour ready, boutique quality guitar pedal and includes a 9v battery power clip, making it perfect for players of all levels!
Pedal Comes With
Bagged crystal to center your inner rock spirit!
Drawstring satin pedal pouch!
Deluxe The Aquabats! black light poster decal!
Glow in the Dark Eaglebones guitar pick!
Special surprise L'il Bat item!
—
PEDAL SPECS:
Cast aluminum enclosure Dimensions – 4.7 in x 3.7 in x 1.66 in (119 mm x 94 mm x 42 mm).
Power requirements are 9VDC with a 2.1 barrel connector (center negative) or 9V battery; current draw <9.5mA.
Weight – 11.8 oz
Blend knob turned counterclockwise is a copy of Eaglebones' own modded overdrive effect, and clockwise is his personal modded distortion. The effects mix in parallel as you turn the knob.
Shipping & Returns

We are glad to accept home-tested returns up to 2 weeks after your delivery date for a full refund. Gigged or otherwise user-damaged products won't be accepted.

For more info on returns or exchanges, reach out to jesse@rudetech.com
Dimensions

Housing size incl. knobs:

L 4.80" x W 3.67" x H 2.20"

L 122mm x W 93.3mm x H 56mm
Power Requirements

9VDC power from a 2.1mm barrel connector (center negative)

Current draw <10mA

No internal battery power option
Share
View full details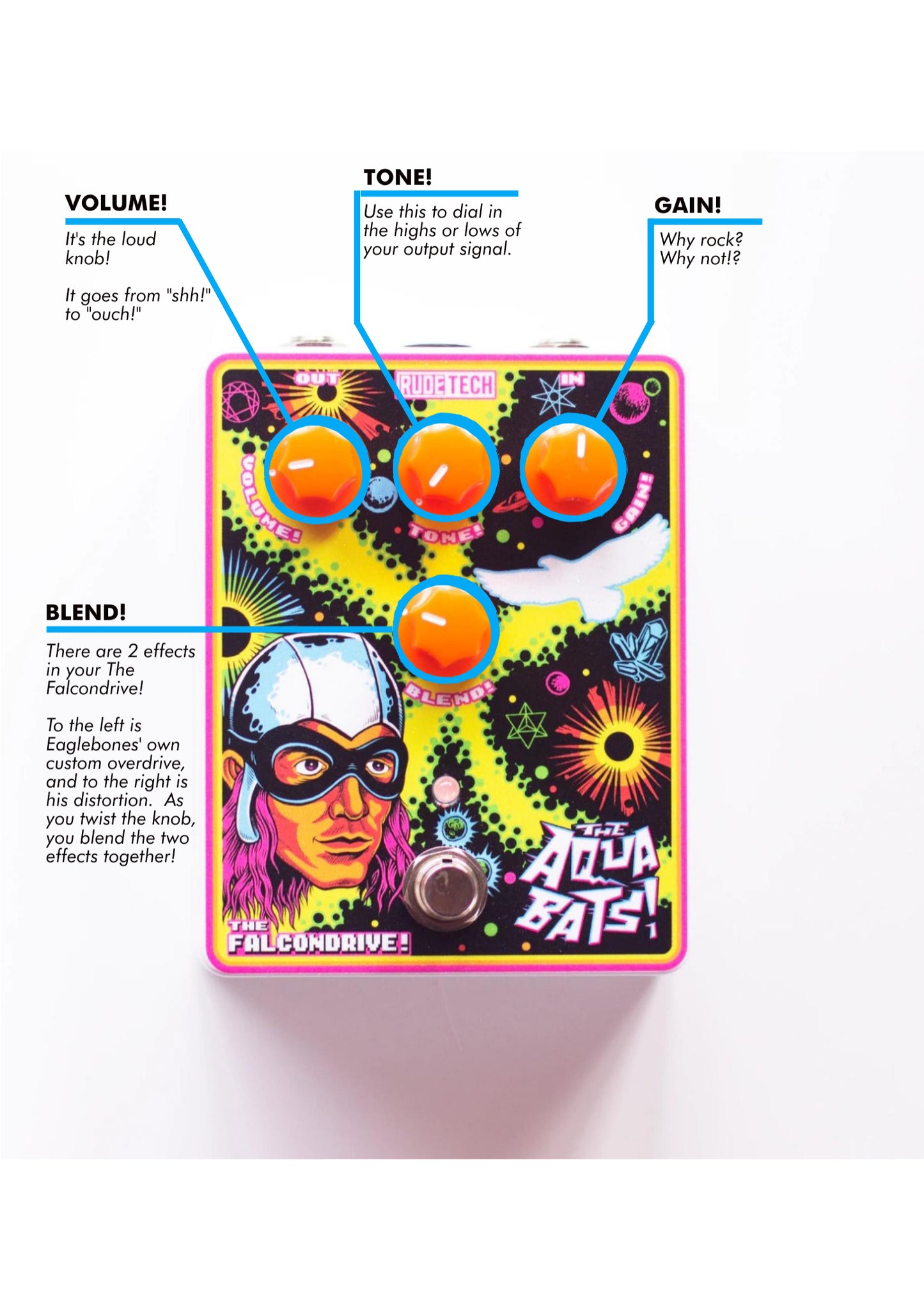 Why Have One Pedal, When You Can Have Two!
Two things drew me to this pedal. First was my love of the aquabats, though I am more familiar with their earlier albums, I have seen a bit of their later tv shows, etc. The paint job on the pedal really stands out when you look down at your pedal board. The second thing is the design of combining two well loved pedals into on beast. With a simple turn of the blend knob you can go from a classic DS-1 style distortion, to a DS-1 overdrive. The ability to blend those two in your desired mix is really cool.
This pedal is awesome and if you have the chance to try it out or pick one up, I think you can't go wrong.
I summoned THE DUDE!
I saw this as a pre-order and could not contain myself. With lightning fast strikes I hurled my cash, coins, and assorted pocket lint to the wizards at RUDE TECH and anxiously awaited my pedal. with bated breath (that was probably a little stinky from all those onions on my pizza) I solemnly plugged in my new acquisition and stood before the pulse pummeling power of my proffered power head. Let's just say I was not disappointed. From its amazing artistry, to its solid build, and continuing to great tone,I can now pretend to be my very own master of chords and solos. And, while I fight crime, evil masterminds, and menacing alien overlords, I now also hold the power of goodness in my hands.
Solid pedal all around - looks, tone, and construction. Two thumbs up and a Shaka sign from this old Aquabats fanatic. It's super rad.
It is the Aquabats Sound
It's the Aquabats sound I had been looking for. I picked this up as soon as I heard it.