Regular price
Sale price
$255.00
Unit price
per
Sale
Sold out
Three different muff fuzz circuits, selectable with a 3-way toggle switch.
Add to that a tone-bypass option, then feed it all into an active Mids Overdrive that you can kick on and off at will.
Remember when muffs were rumored to be made of scrapped Soviet tanks? Well, the 3MuF-14 might as well be a control panel ripped out of the cockpit of a MiG jet.

Features:
3-way selectable muff circuit (Black, Green, and Civil War)
Tone bypass toggle
Built-in mids overdrive

Internal trimpots to tweak the mids drive voice
Socketed opamps and transistors. Experiment with different components to customize your pedal.

Heavy-duty construction with metal faceplate, aluminum toggle guards, and individually numbered and signed units.
--
I love distortion.  I agonize over which distortion gets a spot on my pedalboard for a certain band, or even a certain show.  A Civil War when I play bass.  A tall-front Green with unreal bass response for a stoner/doom show. A "bosstortion" with a tone bypass mod for an open-sounding So-Cal distortion sound.
Why can't I have it all!?  Oh wait, I build pedals... I can have all three in one box and have room for extra goodies!
This is a heavvvy distortion/fuzz that I'm sure you're familiar with, but I've brought a ton of new features along for the ride:
select among 3 famous circuits
tone bypass toggle so you can just hear the distortion/fuzz circuit alone
modeled after the cockpit controls of a Russian MiG jet
stamped serial numbers on the metal faceplate of all pedals
This circuit typically has a significant mids cut when the tone circuit is engaged, so some players opt to run it into an overdrive with a mids spike to even things out for new tonal possibilities.  Well, fam I got you covered.
The second footswitch is an in-pedal overdrive placed after the tone section of the main distortion circuit.  A Trim control lets you keep the overdrive's volume equal to your fuzz's volume, and two internal trimpots let you change the character of the voice of the drive.
Internal features:
socketed components

swap your clipping-stage transistors from the original 5888s

Try 5889 for slightly more gain
Try 2N222 for a choked-out overdrive sound
Try BC547 for a more vintage sounding distortion
And more!  I'd love to hear what you come up with

socketed Mids Drive opamp

I ship it with a 4558 for a vintage overdrive sound
Try TL072 for vintage but crisp sound
heck, try a NE5532 for modern hi-fi sound... Mr. Moneybags.

Mids Drive drive level
Mids Drive tone control
Basically, it's your favorite distortion, but so much more flexible.
Shipping & Returns

We are glad to accept home-tested returns up to 2 weeks after your delivery date for a full refund. Gigged or otherwise user-damaged products won't be accepted.

For more info on returns or exchanges, reach out to jesse@rudetech.com
Dimensions

Housing size incl. knobs:

L 4.80" x W 3.67" x H 2.20"

L 122mm x W 93.3mm x H 56mm
Power Requirements

9VDC power from a 2.1mm barrel connector (center negative)

Current draw <10mA

No internal battery power option
Share
View full details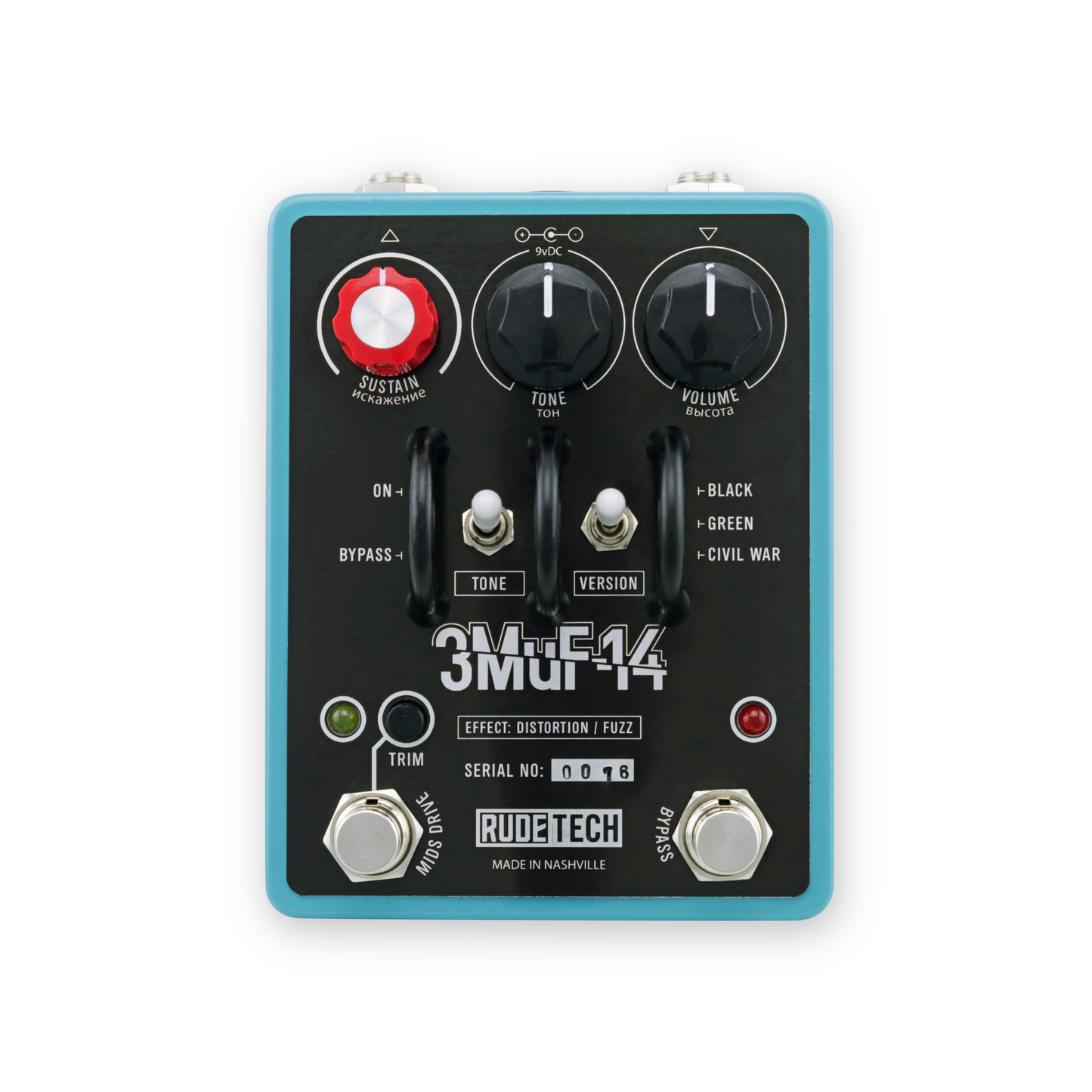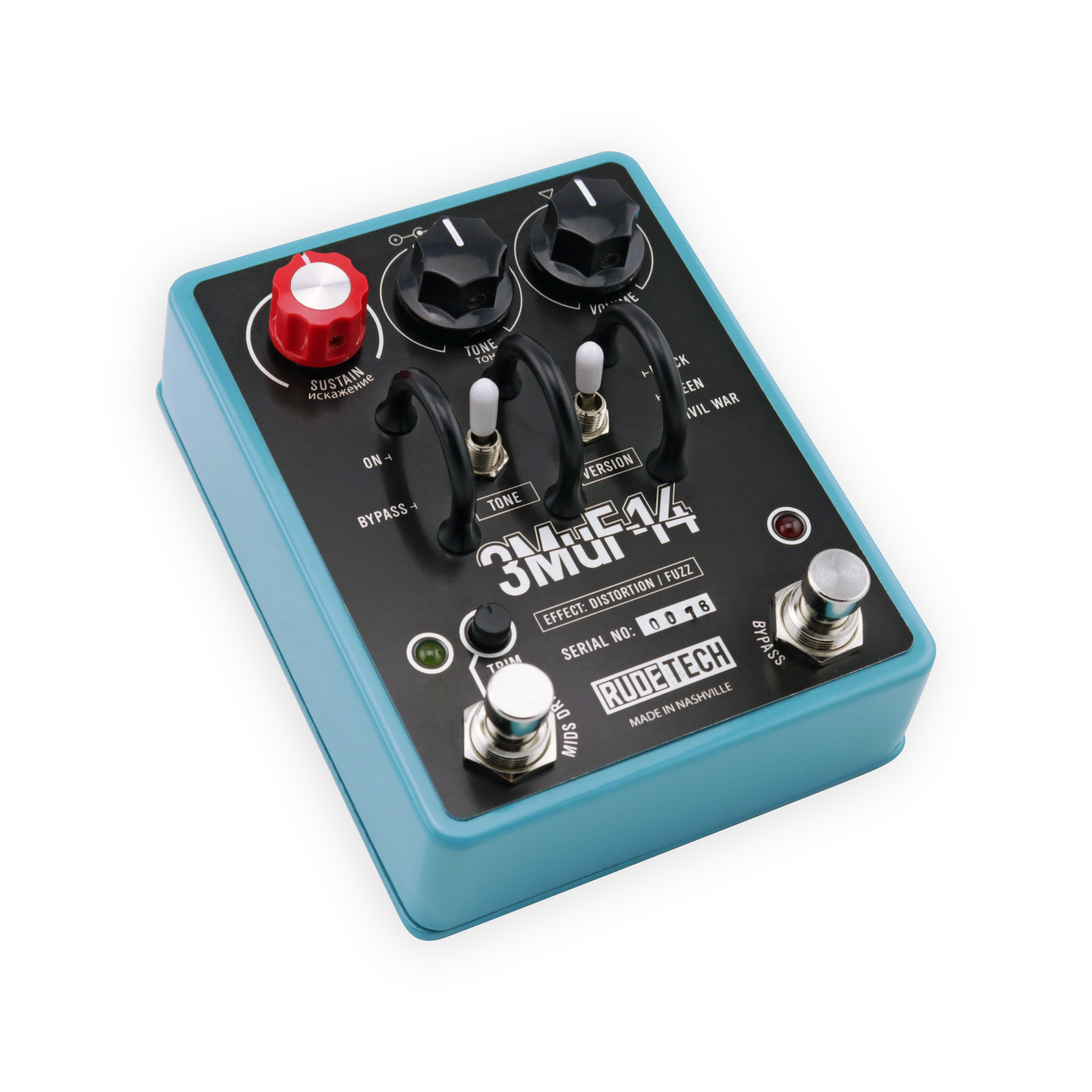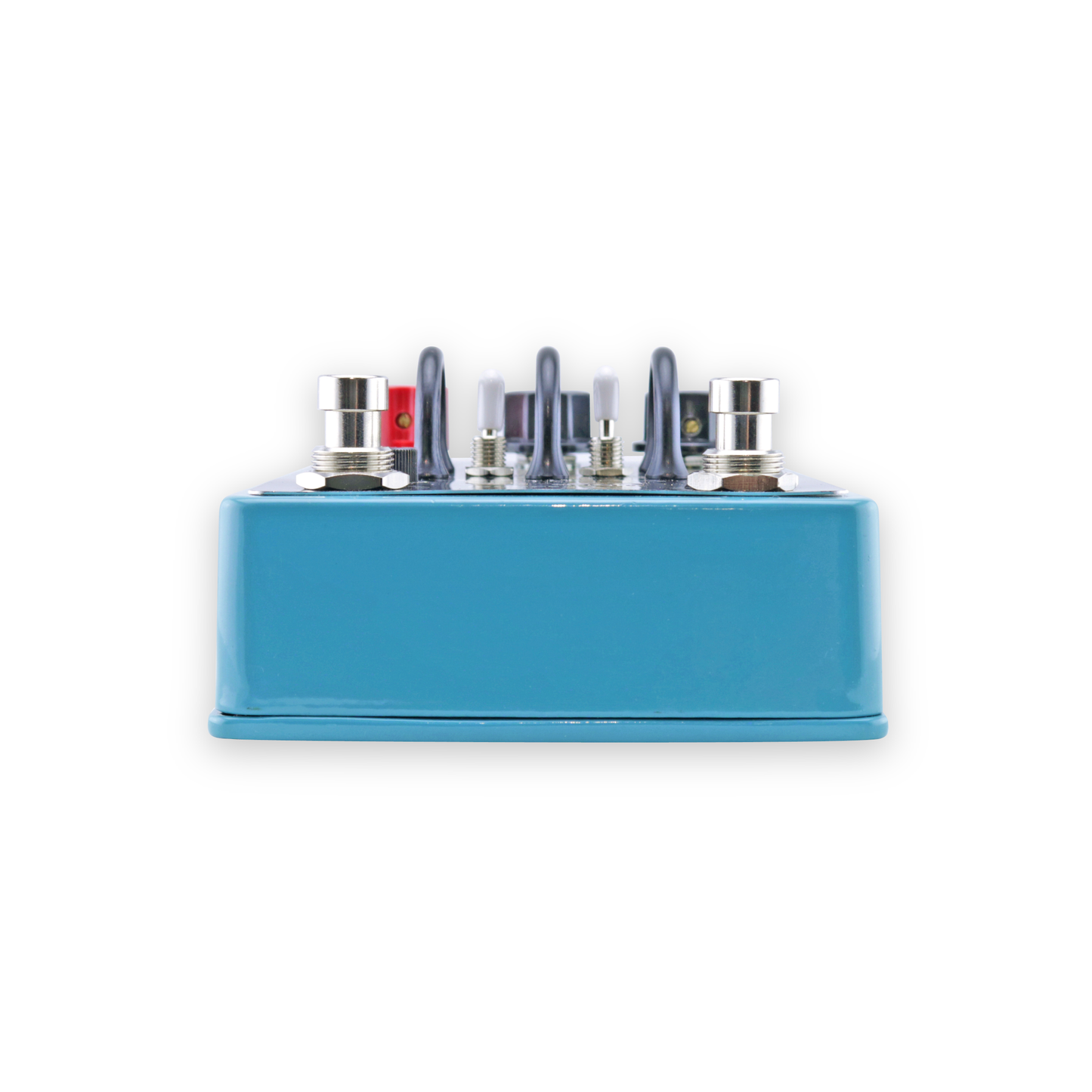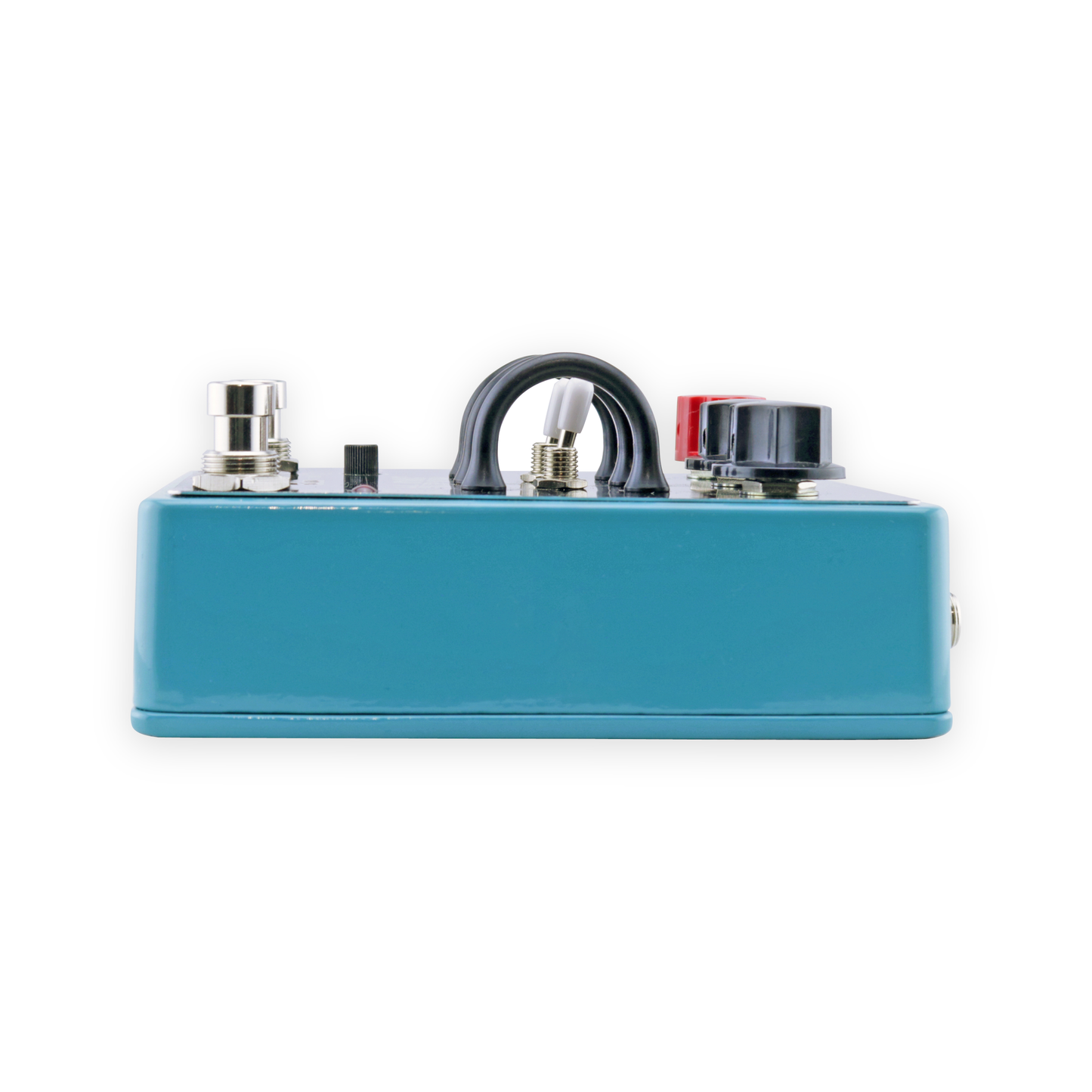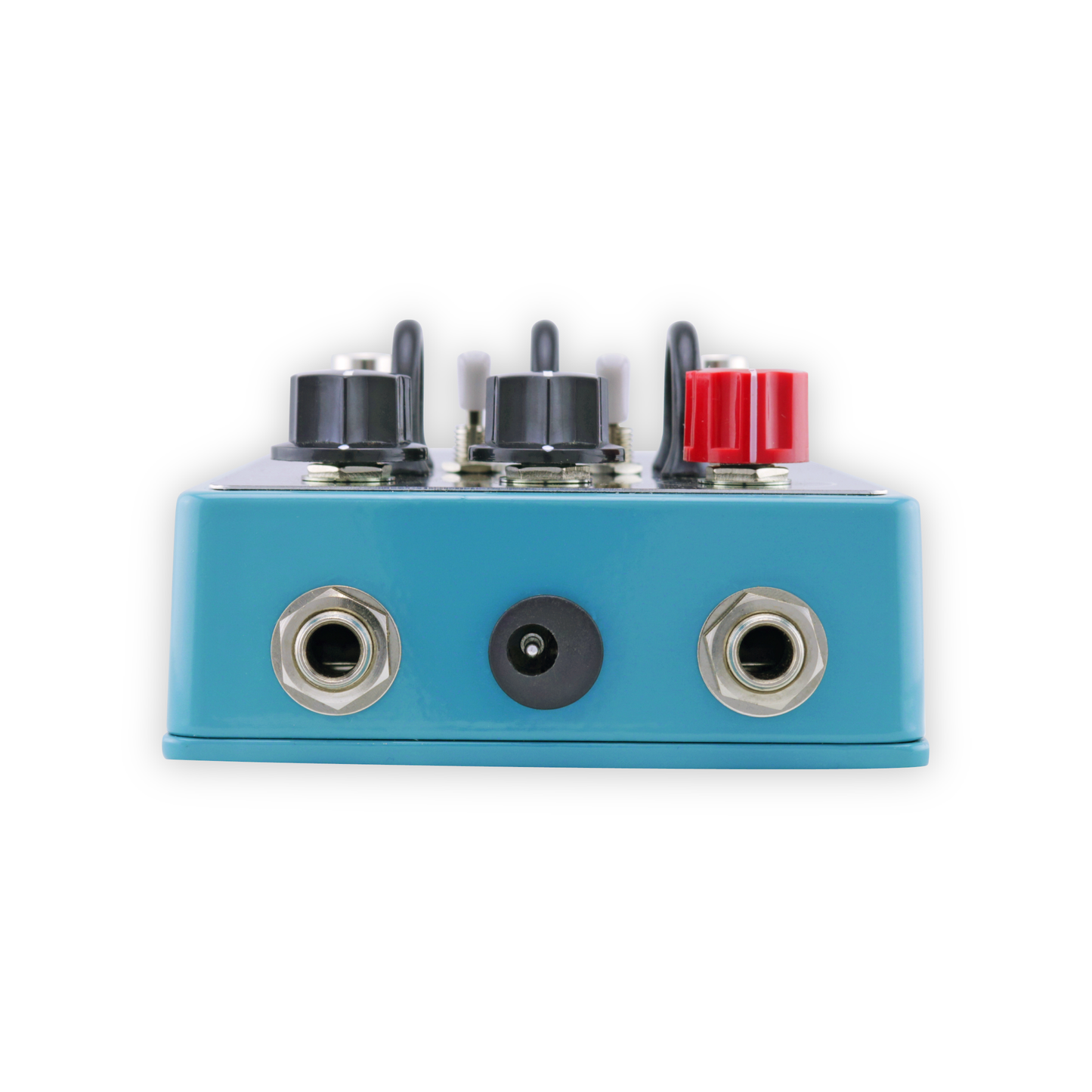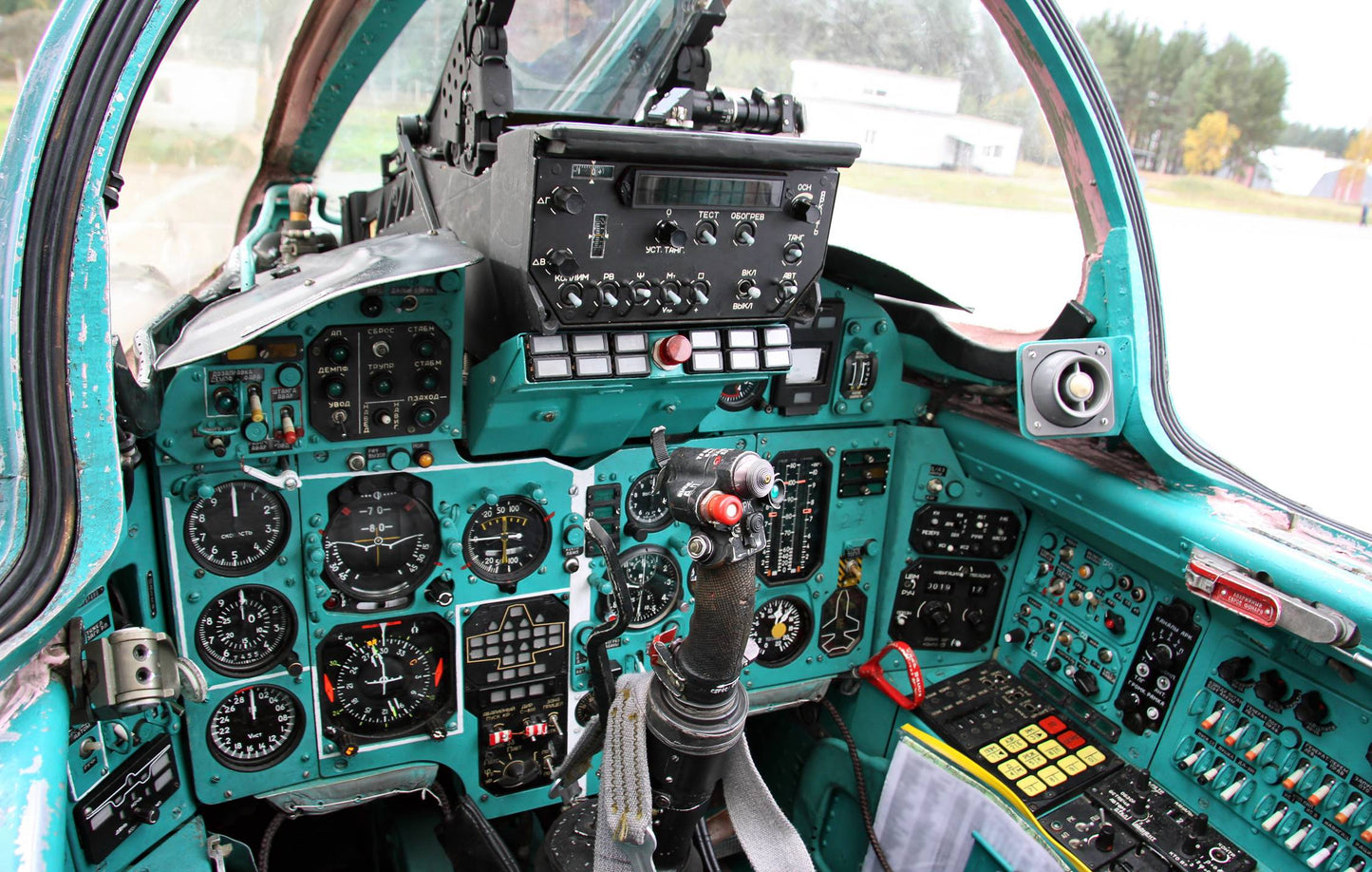 Great Bass Pedal!!
As Bassist and Muff estimator I can only say that I have found the best Muff out there. Finally a Muff that can also be used in Band or Live and not only in the bedroom alone! With the boost on the midrange frequencies the pedal responds perfectly with the tone that doesn't get lost while maintaining that characteristic sound. Beautiful and beautiful!
Last but not least Jesse is a great person and very honest. Responds to all emails and if there is a problem he does everything to solve it even at his expense. HIGHLY RECOMMENDED
Converted me from folk to doom
I know very little about fuzz but this thing is just such a joy to play. There's so much fun to be had in this pedal. I have been channeling Tool, the Beatles, Black Sabbath, Alabama Shakes, and more with it. Brings a smile to my face every time I kick it on.
This is my only pedal besides reverb. I use the trim pot on the mid drive to lower the volume, so I'll turn the pedal on with mid-drive for more tamed overdrive stuff, and then turn off the mid-drive for harsher, more acidic fuzz.
Also it is built so solidly and it looks badass.
Does more than you think
Great Muff tones from three varieties, plus a toggle for removing tone is killer enough, but an adjustable mid drive as well? This pedal is well built and solid as a rock. knobs and switches are top notch. Inside is clean as a whistle.
Want Black Keys? it's there in the green mode with saturation about 3/4 way up. want grunge? Black Russian Mode. want Gilmour Solo tones? dime the volume and tone and leave saturation low. Looks great too. Don't over think it.
Muffy Muff
One muff to rule them all. A great pedal that has been a mainstay on my board for over a year. Give her the old college try
By far one of the best muff pedals ever!
The 3MuF-14 Distortion/Fuzz is one of the best muff pedals ever. My favorite of the version switch is the Civil War in any configuration. To have the others on top of this is such a delight. I would highly recommend this pedal for muff lovers with an itch to have a variety of options to shape their sound.